And Now For The *SICKOs* Among Us: The SICKENING Story Of Jaycee Dugard And A Pedophile Named Phillip Garrido. *SIGH*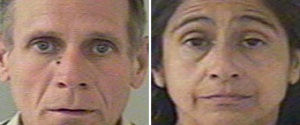 Kidnapped at 11, Woman Emerges After 18 Years
By JESSE McKINLEY and CAROL POGASH
ANTIOCH, Calif. — A woman who was kidnapped as an 11-year-old in 1991 was reunited with her family on Thursday after the police here arrested two suspects in the case and discovered a hidden compound where she had apparently been kept for nearly two decades.
The woman, Jaycee Dugard, was dragged into a car on her way to a bus stop 18 years ago as her stepfather watched helplessly from the family home in South Lake Tahoe, Calif. The police could find no trace of the car, or Ms. Dugard, a blond, blue-eyed girl last seen wearing a pink windbreaker and stretch pants.
On Wednesday, the police arrested Phillip Garrido and his wife, Nancy, and charged them with Ms. Dugard's abduction.
Mr. Garrido, a convicted sex offender who was on federal parole for a 1971 rape and kidnapping, was also charged with rape and acts of child molestation and sexual penetration of a minor. The police said that he had apparently fathered two girls — now 11 and 15 — with Ms. Dugard.
Ms. Dugard, 29, and her two children had apparently lived in a collection of ragged tents and sheds secreted behind the Garridos' home, a ranch-style house in a ramshackle neighborhood in an unincorporated area outside Antioch, a Bay Area suburb of 100,000.
"None have ever gone to school; none have ever gone to a doctor," Fred Kollar, the under sheriff for El Dorado County, said at an afternoon press conference. "They were kept in complete isolation."
The break in the case came Tuesday afternoon when a University of California, Berkeley, police officer noticed Mr. Garrido trying to hand out religious literature on campus and asked him for identification. A check of police databases revealed that Mr. Garrido, 58, was on parole.
On Wednesday, Mr. Garrido was called to a parole office in Concord, about 35 miles east of San Francisco, for a meeting with his case officer. At that meeting, Mr. Kollar said, Mr. Garrido brought the two children, his wife and Ms. Dugard, who was using the name Allissa.
Mr. Kollar said the parole officer, who had visited the Garridos' home on numerous occasions, had never seen Allissa or the children and was suspicious. At some point in the interview on Wednesday, Ms. Dugard apparently told the parole agent her true identity, and both she and the Garridos revealed information known "only by the victim and kidnappers." The Garridos were subsequently arrested and were to be arraigned on Friday.
Ms. Dugard's mother, Terry Probyn, was told on Wednesday that her daughter was alive and apparently in good health, and she flew to the Bay Area on Thursday morning to meet her.
Ms. Dugard's stepfather, Carl Probyn, reacted with relief and with anger, telling reporters that he wanted the Garridos — and accomplices, if any — "prosecuted to the hilt."
Mr. Probyn said he had no doubts that the woman was his stepdaughter. "She answered all the right questions. That's why DNA isn't necessary," he said, adding that Ms. Probyn, Ms. Dugard, Ms. Dugard's sister and her aunt were staying at a Bay Area hotel. "It's her. We know."
On Thursday, Mr. Garrido told KCRA-NBC in Sacramento that "it's a disgusting thing that took place with me at the beginning" but that he had redeemed himself. "My life has been straightened out," he said.
While officials said that they were shocked by the secret compound, neighbors said they had known that Mr. Garrido had structures behind his house. But they had no idea anyone was living there.
"I knew he was always strange," said Diane Doty, whose back fence was adjacent to the compound. "But I never saw the girl."
Another neighbor, Heather McQuaid-Glace, said that children had long known to avoid Mr. Garrido — his registration as a sex offender was online and known among parents — but that nothing had aroused suspicion that a crime might be ongoing.
"We never heard screaming; we never heard anyone crying for help," Ms. McQuaid-Glace said.
On Thursday, agents from the Federal Bureau of Investigation and other law enforcement agencies were combing the compound.
In one tent, a bouquet of yellow flowers was visible through a window. In front of another, a pair of children's pink pajama bottoms had been removed and laid out by agents, near an evidence tag. Several ragged lawn chairs were laid about, as was a couch, a well-used barbecue, and several parched garden plants. On one shed, a heart-shape wall hanging was painted with the word "spring."
Mr. Kollar said that the car believed to have been used in the kidnapping had also been found in the secret backyard area, which he said was strategically arranged "to isolate the victims" and not visible from the street.
Ms. Doty's 9-year-old granddaughter, Megan, said that she had always found the area behind the fence "creepy," but that she did not feel that way Thursday. "Finally," Megan said, "I'm not scared anymore."
Jesse McKinley reported from Antioch, and Carol Pogash from Placerville, Calif. Rebecca Cathcart contributed reporting from Los Angeles.
Watch video below:
Labels: Crime, Public safety, Punishment