SURVEYUSA poll reveals no surprises; "BILLARY" Clinton leads Obama in Kentucky. Nationally, Obama STILL leads her by eight (8) percentage points!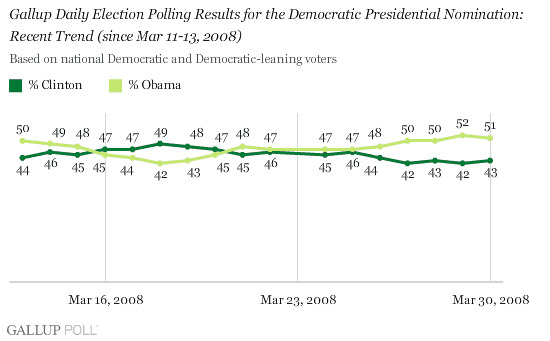 Read
pie chart
and the
cross tabs
of the Obama/Clinton poll for Kentucky -- heck, Obama could NOT win Kentucky, anyway.
Now read the
Gallup national poll (above graph)
that REALLY matters. The poll has Obama with an eight (8) percentage point lead over "BILLARY".
Maybe that's why "BILLARY sent out this OMINOUS fund raising email to supporters:
Now we have just a few hours left before our midnight fundraising deadline. This is our last chance to show our strength in the midst of the onslaught from our opponent who wants this race to end before millions of Americans have their say

.
Labels: Polling